If you are wondering how you can support Ukraine, here's a fast and easy way that doesn't cost much money and puts the funds DIRECTLY in the hands of the Artists. Using Etsy, you can get an instant download of printable art for your home.
The Crisis in Ukraine is horrible, and for the longest time I thought there wasn't anything I could do. Then I realized that I could support artists after the Russian invasion of their country, and they wouldn't have to do anything at all, thanks to digital product and the internet.
Support Ukrainian Artists with Digital Downloads
This is how it works – I've assembled several different artists (and made purchases from them) that live in Ukraine and offer digital downloads of their art. This means that they don't have to pack anything, ship anything, or do ANYTHING. They have already done it, and made it available for download.
I've already purchased from many of these artists, and am having the prints made at my local photo printer so I can frame them and create a gallery wall. I hope you do the same, it's the least we can do for the citizens of Ukraine.
Some amazing Ukrainian Artists
Amazing Flower sketches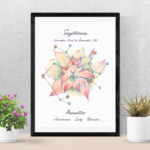 When I first saw AlchemistryOfArt I immediately fell in love with the amazing sketches for the different zodiac signs they have on her page. It looks like they combined parts of a star chart of the heavens, with a flower, and gave it an amazing artistic touch. She has other options, but be sure to get the digital download products.
Botanical Prints for your Gallery Wall
The Artist behind the Unicard shop has these amazing prints you can download and print out on your own of different plants and herbs. I really like how they have grouped several different (but similar) kinds together as a package to buy. I don't really have the "eye" for choosing things that go to gather like this so these groups are a great choice for me.
Incredible Landscapes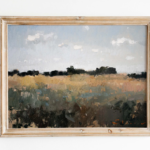 This artists has a combination of real prints and downloadable ones, so be sure to only get the Downloadable ones, so they don't have to do any additional work.
I really like the dreamy colors and compositions of drawiind work, and will be getting more of their work in the future.
Classic Compositions
For a more classic museum kind of art, look no further than VintageArtMuseum and their downloads on Etsy.
They have a wide selection of different classical prints you can get in an instant and then print out and hang in your own frame (from a local vintage thrift store, hopefully)
How to search Etsy for Ukrainian Artists
You don't need to log into Etsy to do this simple search. It can be done from your phone or your computer. Here's how I quickly did a search for sellers that are located in the Ukraine.
1. Visit Etsy.com
2. In the search bar at the top of the page type in what you are searching for. I entered "Downloadable Art"
3. Once the search page opens, click on the All Filters button.
4. Scroll down to near the bottom of the search filters and look for the Shop Location section. Choose Custom and in the box, start to type in UKRAINE. You might see a few different options, but be sure to pick the one that says Ukraine ONLY. The other regions are part of the country that is attacking them. You can click on the image on the right to see more detail if you need it.
5. Then click on the black SEARCH button. You aren't quite finished yet.
6. The results show mostly Ukraine Artists, but there are also some paid advertisers here too. To make sure you have an artist from the Ukraine follow these steps:

Find a print you like and click on it.
On the right side of the page look for the section "Meet your Seller". It is just below the section that says if this is a downloadable product. It will show their name, and then under Owner of…. Click on the name of their shop.
This is where it will it will say where the seller is located. You can also message them to be sure. Be aware that due to the current situation it may take a while to get a response.
Once you have verified their location is in the Ukraine, browse their page and look for instant download products. These are files you can get delivered right to your computer. You can print them at home, or if you are like me I go to my local photo printer (think Costco or Walgreens) and get some really nice prints in whatever size I want to frame on my wall.
If you do, let me know in the comments below!
I am NOT an Etsy Affiliate, and I make no money from this Blog post. If I do, I will donate any proceeds to Amnesty International or some other appropriate charity.