During a real estate transaction, the final step is when you meet with a settlement agent to close the transaction. Of course, there is a lot more that happens during escrow, and depending on what state you live in you will either have a real estate lawyer as your closing attorney or a title company with a title agent.
Each state has different requirements for the closing agent at the end of a real estate transaction. Depending on where you live it could be a Title agent, an Escrow Company, A Closing Attorney, or even your Lender or Real Estate Agent or Broker.
And if you live in Tennessee, any party on the contract can close the deal, which is different than every other state in the USA.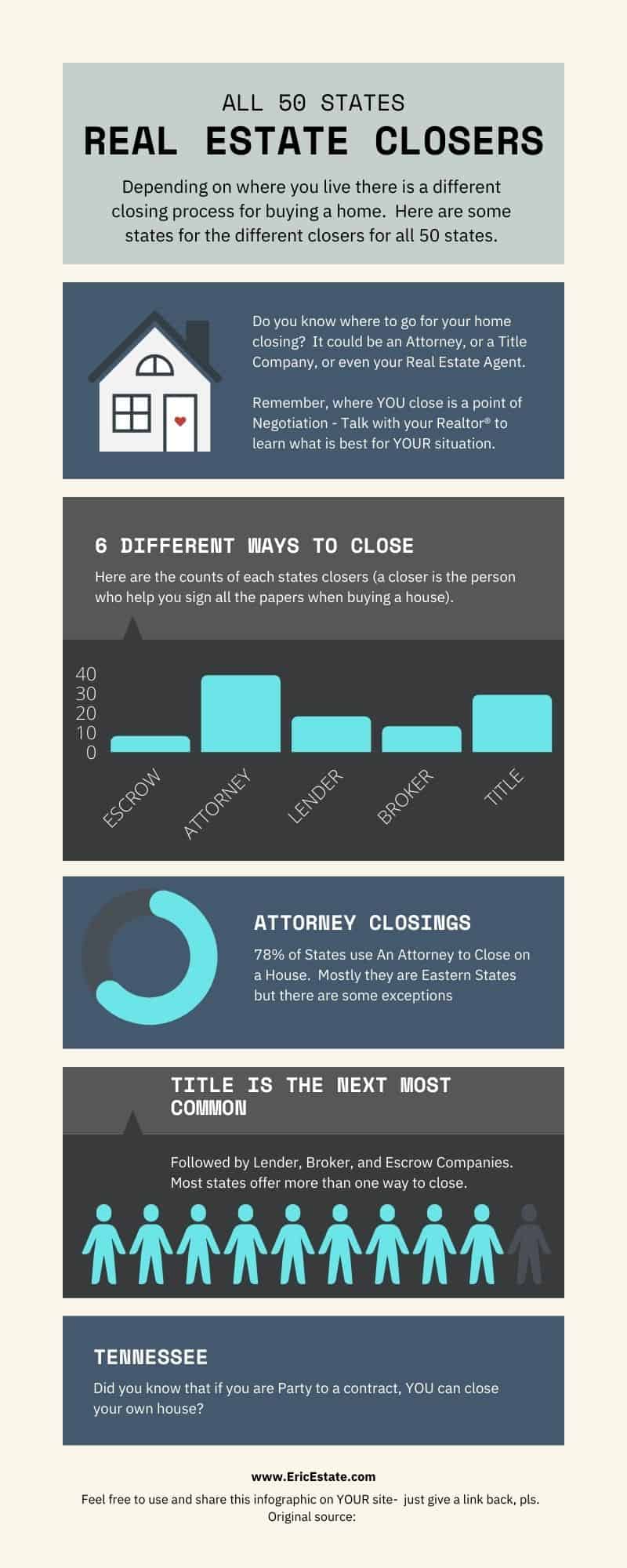 Who chooses the closing company? Buyer or Seller?
Let me start by saying this is NOT Legal Advice, and it is in your best interest to talk with your agent about your real estate deal so you get solid advice and follow all applicable state laws. I don't want to get in trouble for the unlicensed practice of law.
During the part of buying a home when you are writing an offer, your agent will work with the other agent and negotiate which company or attorney will handle the closing.
There are lots of different things that happen during the escrow period, I'll go over a few of the specific issues here.
One section will be for the sellers first, and then I'll address what happens during escrow for buyers.
Remember that the purchase contract drives the entire process and that any changes to the contract need to be signed off by both sides.
Let me also say at this part that neither the Closing Attorney nor Title company represents you.
They are a third party that remains independent through the process. There is no attorney-client relationship formed, and if something comes up where there are disputes you will want to get a good real estate attorney who represents you. This will most likely have an additional cost.
As a home seller, there are several things that a Closing Attorney or Title Company will do during the sale of the property or home.
They will make sure of the ownership of the property, and that you are the owners since you are selling it. This happens through a comprehensive title search of public records. This used to be done at the county courthouse but now is typically performed on the computer. They will look for title defects which are things like liens or judgments that can affect the sale of the home.
The issuance of title insurance really benefits the buyers, but can be paid for by either party.
If there are any title problems, you will most likely get a chance to resolve them. Sometimes if you owe money because of a judgment it can come from the proceeds of the house, which can be helpful when selling.
Do you have to use a title company when buying a house?
There are some legal documents that need to be generated and signed during the process of selling real property. While you don't need agents (they are typically used to market your home to get the highest value, or to help you find the perfect property), the actual transfer needs to be recorded and title transferred.
As a home buyer, YOU are both working on your loan as well as with the Title Company or Attorney.
Let's talk about the loan process. This is completely separate from the title work.
Note: Be sure to select the person you are getting your loan from several mortgage lenders so you get the best rate for your financial situation.
There are some federal laws that have to be followed regarding disclosures. Specifically that you need to receive a closing disclosure three days before the closing date so you know all the numbers around the purchase of your house. This will be issued by your lender, and need to be acknowledged otherwise the closing may be delayed.
You can also usually set up escrow accounts through your lender that can help you save money in a private account every month for your property taxes, and even property insurance.
As for what a closing attorney or title company does for buyers the title process will include providing you with the option of purchasing title insurance. This is issued by title insurance companies that may or not be associated with your closers.
This is a one-time cost that lasts the entire time you own your home. It protects you, the new owner against any adverse claims on the title.
This could range from mechanic's liens from previous workers on the home to some crazy aunt coming out of the woodwork and saying she owns the house and that the sellers never had the right to sell. In cases like this, the title work will verify the chain of title before ownership transfer happens so that the new owners have a clean title from the previous owners.
Title insurance rates vary from state to state as well as for the purchase price of the home. The title insurance company can provide you with the rates.
Who can I use for a closing?
Should I use a title company or lawyer? The answer to that depends on your state. If your state allows you do both, talk with your agent BEFORE the contract is signed and executed. It could be too late after that – although a skilled agent can re-negotiate that if needed.
At the closing table, each side will receive a copy of the settlement statement to review. The best way to make sure your real estate investment is protected is to work with qualified, experienced, and licensed parties that you trust throughout the process. Talk with friends, and get trusted advice.
At the closing you will also have to sign promissory notes if you have a mortgage. You will also have a lot of standard documents that are common for all real estate purchases, but since every sale is unique there might be something different, although that is becoming more unusual.
Final thoughts about your Real Estate Closing
Remember, the people doing the title work are not providing you with legal representation. It might be a good idea to get your own attorney if your agent or closer isn't providing you with the information you need.
The basic difference is that a Title Company can't issue the legal deed documents (they have to hire a lawyer). And a closing attorney can't issue Title insurance (they need an underwriter).
Again, if you have any legal questions about the process reach out to an appropriate party or even a law firm – that specializes in Real Estate. I'm not about to get busted for the unauthorized practice of law.
All the different ways you can close a house for each of the 50 states
| | | | | | |
| --- | --- | --- | --- | --- | --- |
| | Title | Escrow | Attorney | Lender | Broker / Agent |
| Alabama | ✓ | | ✓ | | |
| Alaska | ✓ | ✓ | | ✓ | |
| Arizona | ✓ | | | | |
| Arkansas | ✓ | | ✓ | | |
| California | ✓ | ✓ | | | |
| Colorado | ✓ | | ✓ | | ✓ |
| Connecticut | | | ✓ | | |
| DC | ✓ | | ✓ | | |
| Delaware | | | ✓ | | |
| Florida | ✓ | | ✓ | | |
| Georgia | | | ✓ | | |
| Hawaii | | | ✓ | | |
| Idaho | | ✓ | | | |
| Illinois | ✓ | | ✓ | ✓ | |
| Indiana | ✓ | | ✓ | ✓ | ✓ |
| Iowa | | | ✓ | | ✓ |
| Kansas | ✓ | ✓ | ✓ | ✓ | ✓ |
| Kentucky | | | ✓ | | |
| Louisiana | ✓ | | ✓ | | |
| Maine | | | ✓ | | |
| Maryland | | | ✓ | | |
| Massachusetts | | | ✓ | | |
| Michigan | ✓ | | ✓ | ✓ | ✓ |
| Minnesota | ✓ | | ✓ | ✓ | ✓ |
| Mississippi | | | ✓ | | |
| Missouri | ✓ | | ✓ | ✓ | ✓ |
| Montana | | ✓ | | | |
| Nebraska | ✓ | | ✓ | ✓ | ✓ |
| Nevada | ✓ | | | | |
| New Hampshire | | | ✓ | | |
| New Jersey | ✓ | | ✓ | | |
| New Mexico | | ✓ | | | |
| New York | | | ✓ | | |
| North Carolina | | | ✓ | ✓ | |
| North Dakota | | | ✓ | ✓ | |
| Ohio | ✓ | | | ✓ | |
| Oklahoma | ✓ | | ✓ | ✓ | ✓ |
| Oregon | ✓ | ✓ | | | |
| Pennsylvania | ✓ | | ✓ | | ✓ |
| Rhode Island | | | ✓ | | |
| South Carolina | | | ✓ | | |
| South Dakota | ✓ | | ✓ | ✓ | ✓ |
| Tennessee | ✓ | | ✓ | ✓ | |
| Texas | ✓ | | | | |
| Utah | ✓ | | | ✓ | |
| Vermont | | | ✓ | | |
| Virginia | ✓ | | ✓ | | |
| Washington | ✓ | ✓ | ✓ | ✓ | |
| West Virginia | | | ✓ | ✓ | ✓ |
| Wisconsin | ✓ | | ✓ | ✓ | |
| Wyoming | | | | | ✓ |