The other day I had a new client ask me if it was possible to build a modern farmhouse on their own lot.  They were currently renting in an an apartment and had outgrown it.  Plus with interest rates so low, they thought they could get a little bit of land and build their dream home on it using some Modern Farmhouse blueprints.
Building a Modern Farmhouse From Plans On Your Own Lot requires a lot of work, and a lot of decisions to be made. But I've done this before and knew the steps to take to help my clients.
Modern Farmhouse Dreams
This young couple had been together for a few years.  They met in college and moved in to an apartment a few years ago.   In that time they had been working on their careers and were starting to plan their wedding.  They mentioned that they would love to have a backyard wedding at their new Modern Farmhouse, but I didn't know if we could accomplish that, and I told them.
They loved the Modern Farmhouse style – clean white lines, lots of light, black window frames, modern style with an open floorpan.
Most new homes in my area are closer to Soft Contemporary, and there are subdivisions and neighborhoods full of them, as well as older ranch homes, monster houses, and bungalows.
So we had to look outside the traditional areas for land that would be perfect for them.
Looking for Land for a new Farmhouse
To get started we began to scour the MLS for 1-3 acre lots to the north of the city.  Surprisingly there weren't very many options in that area, so we had to expand our search.
Some of the requirements were:
No HOA
Not too flat, not too hilly
Not in a flood zone
Utilities, including fast internet, available
Something with character
A place with amazing sunsets they could watch from the back porch.
Eventually we found a lot near Georgetown, that was just perfect.  We had to go a little farther north than we wanted but it was within their budget, and on a slightly rolling hillside.  On one side of the 2.5 acre lot was a wooded area, and it was far enough back from the road, that it was private, without loosing a sense of community.
This lot was in a gated neighborhood, with an HOA, so they had to compromise on that, but the regulations were very relaxed, and the HOA was only in place to collect dues for the private road, and electronic gate maintenance.  There wasn't any architectural review in place.
Modern Farmhouse Inspiration
To help move things along I picked up some books on Modern Farmhouse Design.  My clients were big fans of Chip and Joanna Gaines (they actually live only an hour up the road in Waco from the lot we picked out).   I ordered Homebody from Amazon.com to try to get some inspiration, as this was the best source. I could find for modern farmhouse style.
If you don't know about Chip and Joanna they are the stars from the HGTV show Fixer-upper, where they would find an older home and renovate and update it in their style, which for me is the epitome of Modern Farmhouse.
Another book they had me look at was From The Land.  It's an architecture book from the firm Backen, Gillam & Kroger from the California Wine Country.  It's filled with remarkable spaces and expert advice.
This style is at the center of a popular movement in home design that emphasizes elegant simplicity and embraces the rustic charm of natural materials.
Lots of light, rustiest and modern that seem to effortlessly combine the outside and the inside at the same time, and green building materials and techniques are at the heart of it all.
The third book we talked about was about Marfa Modern. If you haven't heard, Marfa is an Artist's Enclave in West Texas.  Most people have seen the photo of the Prada Marfa store along the railroad tracks about :30 minutes outside of the town.
Marfa style combines modern building, with wood, concrete, steel and glass with open passageways, and the desert.  Think about modern cowboy, but with style.
Using these three books, as well as some instagram accounts and Pinterest boards they shared with me I was able to get a great sense of their desired style.
Finding Modern Farmhouse Plans 2020
Since we had the land, the next step was to find some house plans that would work with their sense of design and fit on the land they had purchased.  We had a bunch of options, but they didn't want to go too crazy.
This meant that a custom, architect designed house was outside their budget.  While working with an Architect is my first choice, there are other options available if you are on top of everything.
While it is entirely possible to draw your own house plans, I have heard horror stories from other agents who had clients that did that.  There were delays, cost over-runs, and weird and oddly spaced rooms because the clients didn't understand how much space would be needed around a kitchen island, or master closet, or toilet even.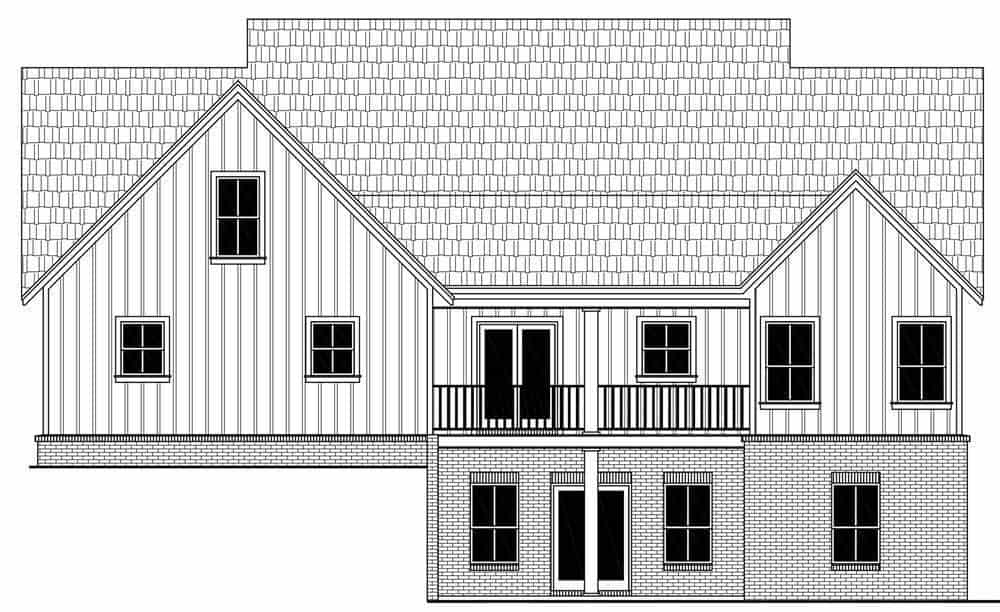 I've recommended House Plan Gallery before to clients, and have had great success with them.  They have an amazing selection of Affordable Modern farmhouse plans you should check out.
We sat down together (via zoom because of Covid-19) and started to look through the different plans on the website.  After entering some basic guidelines: a larger 3 beds, 2.5 baths home with some kind of bonus space.  Lots of light, modern farmhouse style, open floorpan.
We entered the basic details into the search page on House Plan Gallery, and the first one they saw was the Jones Creek. It was perfect!
With the master bed on one side of the house, and 2 additional beds on the other, a large open kitchen / family room. A HGUE pantry bonus, and a really cool basement level which totally counts as a 2nd living area.  Two closets in their bedroom, dual covered porches, lots of storage, and all the living areas on one level.
As I write this, we are about halfway through construction, so be sure to subscribe to be notified when we finish.  I can't wait to share photos with you.